High performance weatherproofing sealant
Sikasil® WS-305 KR is a durable, neutral-curing silicone sealant with a high movement capability and excellent adhesion to a wide range of substrates.  
Outstanding UV and weathering resistance
Adheres well to glass, metals, coated / painted metals, plastics and wood
ASTM C 920  for Type S, Grade NS, Class 50
PRODUCT BENEFITS
Outstanding UV and weathering resistance
Adheres well to glass, metals, coated / painted metals, plastics and wood
ASTM C 920  for Type S, Grade NS, Class 50
Areas of Application
Sikasil® WS-305 KR can be used for weatherproofing and sealing applications where durability under harsh weathering conditions is required. It is particularly suited as a weather seal for structural glazing, curtain walling and windows. This product is suitable for experienced professional users only. Tests with actual substrates and conditions have to be performed to ensure adhesion and material compatibility.  
Product Details
Typical Product Data
| | | |
| --- | --- | --- |
| Chemical base | | 1-component silicone |
| Color (CQP001-1) | | Various colors available A |
| Cure mechanism | | Moisture-curing |
| Cure type | | Neutral |
| Density (uncured) | | 1.45 kg/l |
| Non-sag properties (CQP061-4 / ISO 7390) | | Good |
| Application temperature | | 5 ─ 40 °C |
| Skin time (CQP019-1) | | 15 minutes B |
| Tack free time (CQP019-3) | | 60 minutes B |
| Curing speed (CQP049-1) | | See diagram 1 |
| Shore A hardness (CQP023-1 / ISO 48-4) | | 20 C |
| Tensile strength (CQP036-1 / ISO 527) | | 1.0 MPa |
| 100 % modulus (CQP036-1 / ISO 527) | | 0.4 MPa |
| Elongation at break (CQP036-1 / ISO 527) | | 600 % |
| Tear propagation resistance (CQP045-1 / ISO 34) | | 4.0 N/mm |
| Service temperature | | -40 ─ 150 °C |
| Shelf life (CQP016-1) | | 12 months D |
| | | |
| --- | --- | --- |
| CQP = Corporate Quality Procedure | A) color defined by local sales organization | B) 23 °C / 50 % r. h. |
| C) after 28 days | D) storage below 25 °C | |
Technical Information
CURE MECHANISM
Sikasil® WS-305 KR cures by reaction with atmospheric moisture. At low temperatures the water content of the air is generally lower and the curing reaction proceeds some-what slower (see diagram 1).
The curing speed of the reaction depends mainly on the relative humidity and temperature. Material temperature above 50 °C could lead to bubble formation and has to be avoided.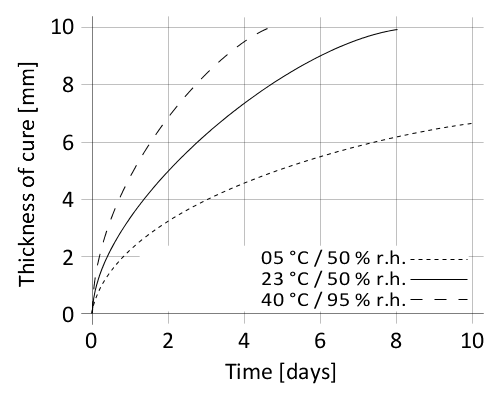 Diagram 1: Curing speed Sikasil® WS-305 KR
Application
Application Information
Surface preparation
Surfaces must be clean, dry and free from grease, oil and dust. Surface treatment depends on the specific nature of the substrates and is crucial for a long lasting bond.
Application
The optimum temperature for substrate and sealant is between 15 °C and 25 °C.
Sikasil® WS-305 KR can be processed with hand-, pneumatic- or electric driven piston guns as well as pump equipment. For advice on selecting and setting up a suitable pump system, contact the System Engineering Department of Sika Industry.
Joints must be properly dimensioned. For optimum performance the joint width needs to be designed according to the movement capability of the sealant based on the actual expected movement. The minimum joint depth is 6 mm and a width / depth ratio of minimum 2 : 1 and maximum 4 : 1 must be respected. Joints deeper than 15 mm must be avoided.
For backfilling it is recommended to use closed cell, sealant compatible foam backer rods e.g. high resilience polyethylene foam rod. If joints are too shallow for backing material to be employed, we recommend using a polyethylene tape. This acts as a release film (bond breaker), allowing the joint to move and the silicone to stretch freely.
Tooling and finishing
Tooling and finishing must be carried out within the skin time of the sealant or adhesive. When tooling freshly applied Sikasil® WS-305 KR press the adhesive to the joint flanks to get a good wetting of the bonding surface. No tooling agents to be used.
Removal
Uncured Sikasil® WS-305 KR can be removed from tools and equipment with Sika® Remover-208 or another suitable solvent. Once cured, the material can only be removed mechanically. Hands and exposed skin have to be washed immediately using hand wipes such as Sika® Cleaner-350H or a suitable industrial hand cleaner and water. Do not use solvents on skin!
Application limits
For specific information regarding compatibility between various Sikasil® products contact the Technical Department of Sika Industry.
To exclude materials influencing Sikasil® WS-305 KR, all materials such as gaskets, tapes, setting blocks, sealants, etc., in direct and indirect contact have to be approved by Sika in advance.
Where two or more different reactive sealants are used, allow the first to cure completely before applying the next. Sikasil® WS-305 KR may only be used in combination with structural glazing applications after a detailed examination of the corresponding project details.
Do not use Sikasil® WS-305 KR on PMMA and PC elements as it may cause environmental stress cracking (crazing).